Here is my preview of all the awesome new products this week. You can check them out at
ScrapMatters
.
Also, the new Tuesday Template Challenge is going on right now in ScrapMatters right now. The template and host is Heather Lee and it is a fun challenge about a special day. I have a ton of special days but I felt that Hayden's 6th birthday fit the template the best!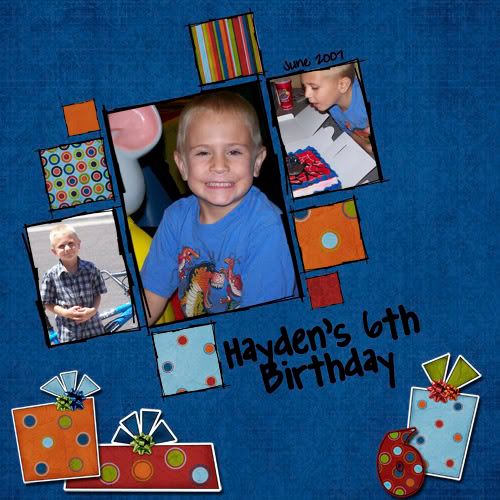 You can find the link on our team blog. Also, don't forget the Speed Scrap tonight. It is at 10 pm eastern (9 pm central, 8 pm mountain, 7 pm pacific.) The host tonight is Leah and she has a fun mini kit for everyone that participates.
I'm planning on playing this week so I will see you there.
My Scavenger Hunt ended on Sunday and my last download was a template that I decided to share with all of you. I have recently started using Box.net for my downloads so your download will be instant. If you want to leave my some love please leave a comment here on my blog. I love to hear from all of you!
Download Here
I guess just a lot of business today. I've got to take my kids to Peter Piper Pizza. If I sit in this house one more day with them I just might go nuts!!!
Have a great day!!!